After three critically-acclaimed albums, the debut extended play "First Of All" by Tanzanian singer Diamond Platnumz folds a range of sounds into a dose of suave melodies.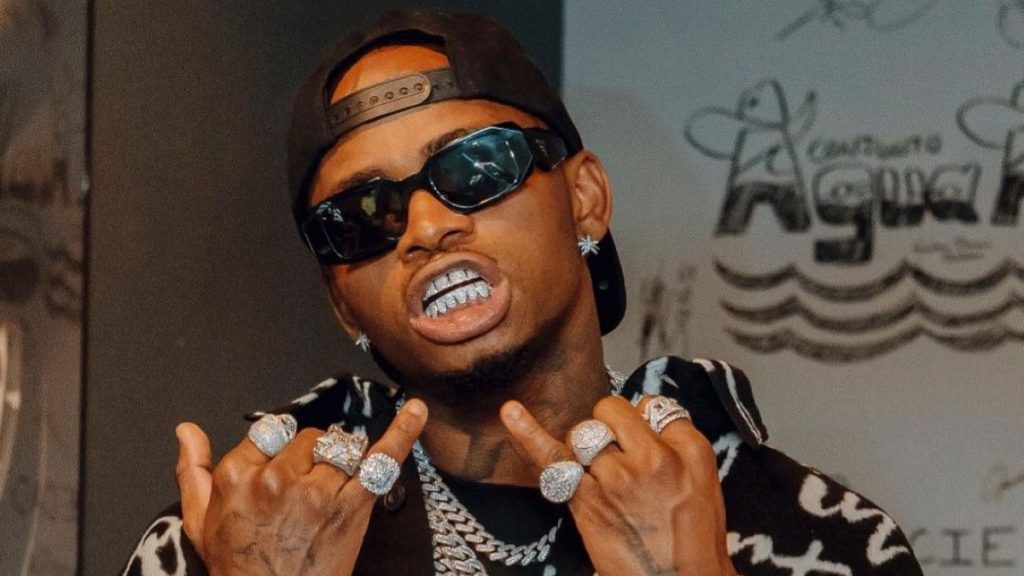 With stellar appearances by Focalistic, Pabi Cooper, Zuchu, Mbosso, Jaywillz and Adekunle Gold, a collection of cross-continental rhythms combine over an engaging 10 songs traversing bongo flava, Afrobeats, soukous, amapiano and zouk.
"I tried to give the people of the world different types of sounds," Platnumz tells Apple Music. "When the world started opening up, I went into different countries and that's when I started recording myself."
"My main aim is to show how Africa has been blessed with talent," Platnumz offers. "I never wanted to limit myself to one specific sound or mood because it's about love, life, partying and it can even make you cry."
Largely inspired by dance, romance and his travels, Diamond's sonic wayfaring is adorned by smooth lyrics in Swahili, English and pidgin as the sultry Afropop of "Somebody" and polyrhythms of "Oka" mesh with the arresting logdrums of "Fresh". He chats Apple Music through this diverse offering—featuring production by Lizer Classic, Suga Vybs, Nusder Venom, S2Kizzy, Krizbeatz and Blaisebeatz—track by track.
"Melody" (feat. Jaywillz)
"I never used to know how to record and do vocals by myself; I used to travel with producers and engineers. The time the world stopped I was like, 'I think this could be the right time for me to take time and learn'. With 'Melody' I got that hook on a flight so I sent it to S2Kizzy, who produced the song. 'I feel like I can create a hit if you give me a proper beat for this one', I told him. He sent an amazing beat and I actually recorded this song on tour to the US in October 2021. S2Kizzy sent the song to Jaywillz, and it's my favourite, so that's why it's the first song on the EP. It's the way I like it; I don't wanna feature a person just because of big numbers, I want the person who can deliver best."
"Somebody"
"I recorded "Somebody" when I was sitting in my room in LA. It was the first song I started learning to do vocals by myself on, so I sent it to Krizbeatz who added some stuff. If you listen to how I do my vocals, I'm so relaxed, and it has lots of layers and melodies. When I write a love song, it's not just about me; it's about what surrounds me… my friends, how they live and what situations they're going through. Of course I've been there and sometimes you can imagine how love feels—that's what gives me the vibe of writing a love song. Other times, you have a beat, lyrics or melodies that take you to a place where you just wanna talk to this fine lady."
"Fine"
"There's something about this song! It just sorta reminds you of old songs, then takes you to the new wave. I was in Nigeria for this. I actually went to shoot the videos for "Melody" and "Somebody". I linked up with Kriz' 'cause me and him are family and have this big bond. We started vibing at my apartment; he played this beat and I went crazy! Every beat gives you a different vibe and you find yourself getting into something that gives you a hit. It gives you sick melodies, sick lyrics and makes a person feel good when they listen to it—it's spiritual."
"Mtasubiri" (feat. Zuchu)
"'Mtasubiri' means 'You'll keep waiting'. It's a love song talking to people who are in opposition. You know, in every relationship there are always people who are against you. It's you telling your haters, 'If you guys are waiting for us to break up, you'll be waiting until I don't know when!' I wanted to have a lady on my EP, and Zuchu has this unique voice and melodies that suit it. Most of the songs, I've been mixing English and Swahili so I wanted a typical duet for my Swahili nation."
"Sona" (feat. Adekunle Gold)
"The plan was not to have any collabs on this EP, but I thought I should at least have Adekunle on my EP; then two or three. I was like, 'I think I need to get a different taste– something different.' I'm a fan, and when he came to Tanzania he had a song with Zuchu as well. AG sent me this song; we recorded and the rest is history. We went to Nigeria to shoot with TG Omori and it's the sickest video."
"Loyal"
"I started recording "Loyal" the time I was heading to South Africa to do my reality show [Netflix's Young, Famous and African]. I was listening to [Wizkid's] 'Essence' and thought if I can get that type of beat, I can deliver something. I told my producer to give me something with that type of mood and vibe. After I recorded this song, I teased it on social media, and people went crazy. There's one hundred melodies in one melody. Sometimes we get inspiration from different songs that we hear. Artists sometimes don't wanna say that, but that's the reality. As an artist I love complimenting when I see my fellow musicians succeed. I'm that way because I believe as Africans we need to be positive and support each other, instead of envying."
"Wonder"
"When I was in Nigeria shooting with Jaywillz he came with Suga. They were playing me different vibes and I loved this. I knew if I did my hook and mixed English with Swahili it would sound very sick! I love mixing [languages] 'cause that gives people all the flavours of me. I can reach English, Swahili and even French speakers sometimes."
"Nawaza"
"'Nawaza' is a 100% bongo flava song. People love when I do metaphors, give them proper writing and come up with different ideas or concepts. It's the things in my head but I'm thinking out loud. I'm mentioning different things—some good and others bad, but it's how I feel. It talks about how people come to the page and say negative things—do we really have beef or are they just doing it to get attention? I'm thinking, 'If I'd still been with my ex, would I be richer or broke?' I'm thinking of the day I'll be gone, like, 'How am I gonna die and is it going to be the end of Wasafi?' I'm just thinking like a normal human being, and that's what the song's about."
"Oka" (feat. Mbosso)
"Recently I've been doing these kinda songs with different artists from Congo. I wanted to do one with a person from here and me and Mbosso always wanted to this Congolese or soukous type of sound. Mbosso is my favourite artist and he's got the crowd from the youth to elders, all the ages. "Oka" is a Swahili love song but in a very 'street' sort of way. It's hard to explain, but it expresses love in a different, local way. It talks about a lady you fall in love with and she has this thing—how she does her moves, dancing and all that—that makes you go crazy."
"Fresh" (feat. Focalistic, Costa Titch & Pabi Cooper)
"When I was finalising my album I said, 'I think I need to put one 'piano song on because it's been a while since I dropped 'Iyo' with Ntosh, Mapara A Jazz and Foca'. When a new sound comes, you need to know how to play with it. Different people from different countries started to spice it up, so my producers tried to play with logdrums on some of these songs. You can still feel that there's Afrobeats or bongo flava, so it gives you all the waves. We all have a duty to push the sound, make sure it keeps growing and release lots of sounds from Africa. I think amapiano is good when you have different types of people on it. It's a get-together kind of sound: something that makes people feel fresh. You can't mention amapiano without mentioning Focalistic, and I wanted to do it with him again. Costa is very talented and he killed it!. I felt like we needed a lady on here and we put Pabi's voice on it and I loved it."
Stream "First Of All" here: https://dplatnumz.lnk.to/foa