ACCES'19: Ebo Taylor And Bibie Brew Receive The Music In Africa Honorary Award.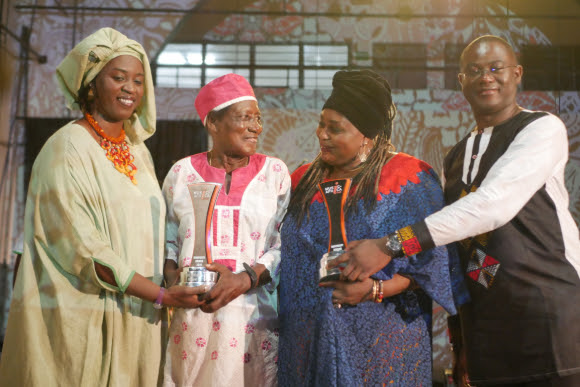 ACCES 2019 started with a bang on Thursday night when Ebo Taylor and Bibie Brew received the Music In Africa Honorary Award at Alliance Française Accra. The two Ghanaian legends join previous awardees Eric Wainaina (Kenya, 2018) and Baaba Maal (Senegal, 2017).
It was then all about the music, with Taylor showcasing authentic highlife to a glowing ACCES audience. Yaa Yaa (Ghana), Kyekyeku & Ghanalogue Highlife (Ghana), Songhoy Blues (UK/Mali), and Arka'n (Togo) were next to entertain, bringing to a close a memorable opening night at ACCES 2019.
The award, courtesy of the Music In Africa Foundation, recognises the outstanding contributions of notable musicians to their home country's industry and that of Africa as a whole. Previous Music In Africa Honorary Award recipients include Senegalese legend Baaba Maal and Kenyan musician Eric Wainaina, who were honoured in 2017 and 2018 respectively.
"This year, we are extremely excited to present the Music In Africa Honorary Award to Mr Ebo Taylor and Ms Bibie Brew for their inspirational work in the African music sector," Music In Africa Foundation Maimouna Dembélé said. "Their dedication and efforts made to strengthen African musical identity is exemplary and we cannot wait to welcome them to the ACCES stage this November."
With a music career spanning more than six decades, Ebo Taylor (born in 1936) is a significant figure in the Ghanaian music scene. He is known for playing a pivotal role in shaping highlife bands the Stargazers and the Broadway Dance Band in the late 1950s. Taylor made an impact outside Ghana, especially in 1962 when he took his Black Star Highlife Band to London where he collaborated with legendary Afrobeat singer Fela Kuti and other African musicians.
Taylor has produced such top Ghanaian artists as Pat Thomas and CK Mann. He also worked with Germany-based saxophonist Ben Abarbanel-Wolff on the Love and Death album. In 2009, US singer Usher sampled Taylor's song 'Heaven' for 'She Don't Know' featuring Ludacris.
The award for Bibie Brew pays tribute to her illustrious work as a music mentor and an advocate for positive change in the creative sector, in addition to a music career that produced one of Africa's biggest global hits.
A daughter of a traveling diplomat, Bibie Brew (born in 1957) earned success following the release of the French song 'Tout Doucement' in 1985. The song was produced by renowned French composer Jean-Paul Dréau. It was certified gold and climbed to second place on the French charts. Other songs that have defined her career include 'J'veux pas l'savoir' and 'Les femmes reviennent et les hommes s'en vont'. The singer has released six albums, including Bibie (1985), Regards (1986), Tendress'moi (1988), La P'tite Black (1990), Femme d'ici ou d'ailleurs (1992) and Sereine (2003).