All six suspects have been arrested following the murder of the 21-years old military officer, Imoro Sherrif, in Ashaiman on Saturday, March, 4.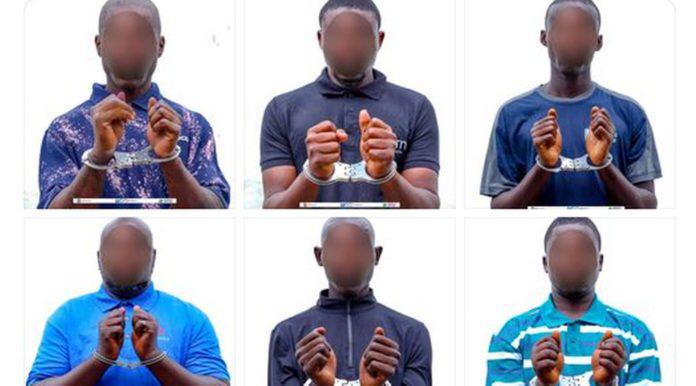 According to a detailed statement by the Ghana police service, after a week of sustained of intelligence-led investigation, they were able to arrest two suspects, Safianu Musah alias Dayorgu and Ibrahim Abdul Rakib from their hideouts in Ashaiman on thursday,9, March, 2023.
Last Friday, two other suspects were arrested by the police – Samuel Tetteh alias Wiper and Abubakar Sardick alias Birdman.
Additional suspects, Yussif Mohammed and Abdul Gafaru Abdul Karim were also arrested last Saturday and Sunday, respectively.
Police detailed events in the statement issued on Sunday, March 12:
"On 4th March 2023, Police received information that a lifeless body of a male had been found lying at Ashiaman Taifa in the Greater Accra Region and the team of Police officers proceeded to the scene where they confirmed the incident.
"Police immediately commenced investigation into the circumstances surrounding the death of the victim. The officers cordoned off the scene and called in the specialist Police Crime Scene team to process the scene for forensic analysis.
"The Crime Scene Team retrieved a number of items, including a knife with blood stains on it and a backpack. In the backpack, Police found 1 Samsung tablet, 1 Apple laptop, 1 military uniform with the name tag "Imoro", 8 other items of clothing, as well as a Ghana card and a Health Insurance card bearing the name Imoro Sherrif.
"Judging from the contents of the backpack, the police suspected the victim could be a soldier, and in line with Police standard operating procedure for handling institution-based victims, the Military was accordingly notified of the incident and some military personnel came to identify the deceased to Police as Imoro Sherrif, a soldier.
"The body of the deceased was thereafter conveyed to a hospital for preservation and autopsy.
"As part of the investigation, an intelligence operation was immediately launched within Ashaiman and other strategic locations of interest to follow up on all relevant leads on the case."
It was after the investigation that all six suspects were arrested.
Meanwhile ,the police have assured the public, especially the family of the deceased, that all the suspects are in their custody and will be "put before the court on Monday,13th March, 2023 to justice".