As part of the Menstrual Hygiene Day celebration, Brave Foundation has announced its significant contribution towards menstrual equity through the Brave Sanitary Pad Fund initiative to ensure that over 500 girls in some of Ghana's most deprived regions have access to sanitary pads for a whole year.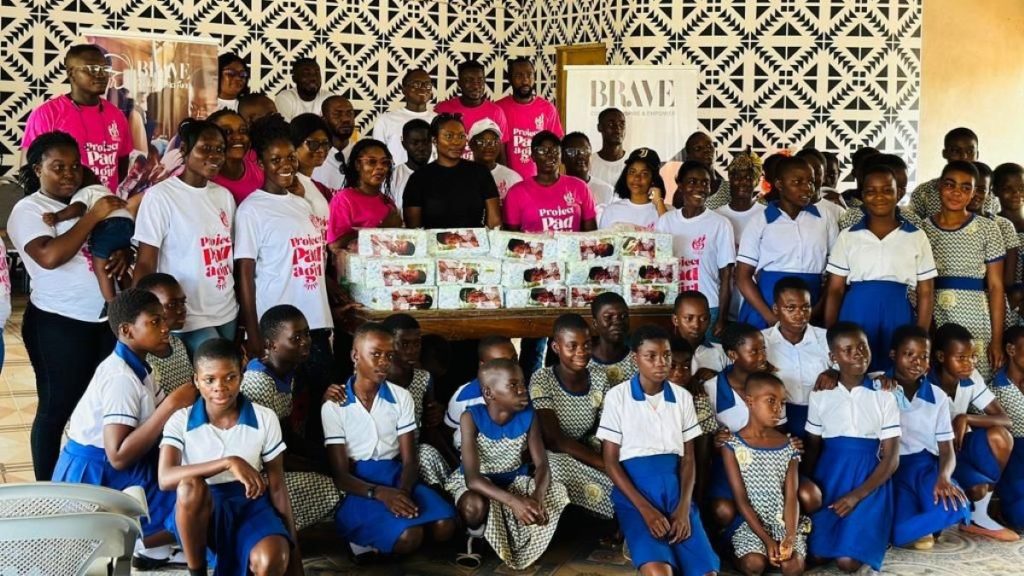 According to the team, the Brave Sanitary Pad Fund – School Adoption Program is a unique program that helps identify girls and young women between 13-24 years in dire need alongside menstrual hygiene and sexual reproductive health education. "Our 505 beneficiaries, chosen via a thorough needs assessment, will be provided with a total of 60,600 disposable sanitary pad units across the span of one year."
Marking the day, Brave celebrated with beneficiaries from the Apedwa SDA Primary School, in collaboration with Medley Choir Ghana as part of our School Adoption Program, which forms part of our support for the 505 girls across selected regions.
The beneficiaries include 100 girls each from North-Eastern Christian Academy, Yendi, Northern region, and Our Lady of Apostles College of Education, Cape-Coast, Central region, 150 girls across three Cluster of schools in Ahafo region, 100 girls from Kyabobo Girls SHS, Nkwanta, Oti region, and 55 girls from Apedwa SDA Primary School, Eastern region.
The key partner and supporter for the majority of the free provision of the disposable sanitary pads is Planera UK, producers of Fluus flushable sanitary pads. Fluus' flushable pads are unique because they are not only user-friendly but also environmentally friendly, setting a new standard for menstrual hygiene products globally. The remaining sanitary pad units will be supplemented through our innovative business model of retailing for revenue-generation for impact.
The initiative also has Transmed Ghana Ltd, the exclusive distributor for Always Sanitary Pads in Ghana as partners, who will provide Always pads at a discounted wholesale price to support the revenue generation for the Support Fund.
The initiative is calling on the public to support this cause by making direct donations or purchasing sanitary pads through us for personal use and/or sanitary pad care kits to be donated directly to girls within our School Adoption Program. Donations can be made to Project Brave Foundation, First National Bank Acc. No.: 62001179060, Branch: Tema Community 11. For purchasing, please follow us @BravePadFund on all our social media platforms for updates.
The Pad Support Fund is a key initiative under Brave Foundation's mission led by our Founder and Executive Director, Tracy A. Owusu-Addo (Tracy Sarkcess). We aim to connect, inspire, and empower young Ghanaian women through skill development, entrepreneurship, menstrual equity, and sexual reproductive health education, in line with SDGs 3, 4, 5 and 8. For more information, please contact John Ofori, +233 (0)54 904 2948.