Fuse ODG Defines Africa At The Launch Of His "New Africa Nation" Album In Ghana.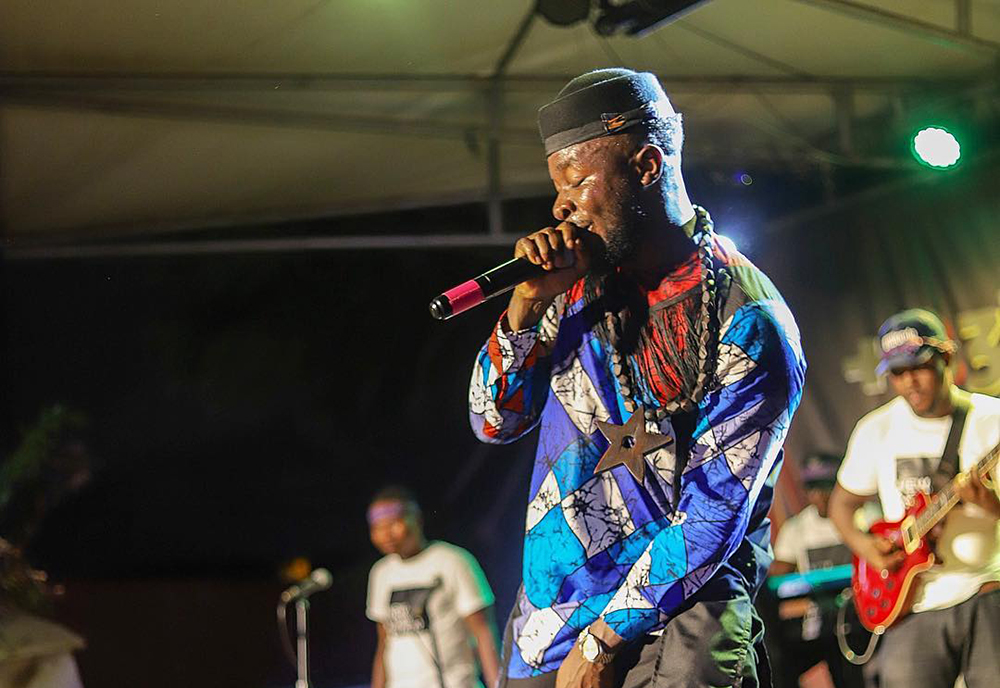 Ghanaian UK-based Fuse ODG started off with a song off his "New Africa Nation" Album succeeded by his club banger "Million Pound Girl" before a catalogue of his popular hits including "Boa Me" featuring R2bees and Ed Sheeran, "Anteena".
Ghanaian music fans are a forgiving lot. Annoy them all you want for as long as you deliver what was promised in the first agreement, they will turn up in droves and party until drop, as witnessed at the launch of "New Africa Nation" album concert show, Thursday night, hosted at the +233 Jazz Bar & Grill, in Accra and headlined by Ghanaian award-winning Afrobeats icon, Fuse ODG.
The event accumulated the presence of some well defined Ghanaian personalities including, Legendary Highlife musician, Gyedu Blay Ambulley, who collaborated with the Afrobeats performer, Fuse ODG to unleash an escalating performance, leaving an eternal memory on their minds.
Multiple awards winning Ghanaian rap genre of music artiste, Sarkodie's presence was felt amidst the launch of the ostentatious album, "New Africa Nation". He eulogised the Ghanaian UK-based for leading a temerarious and audacious heed to avert the brainwashed African diasporas, conniving it with a suprise performance of the "Down On One" tune.
The show primitively commenced with some distinctive words of poetry from a talented young Nigerian Ghanaian-based Writer/poet, Yom Nfojoh popularly known as Yom The Poet. Yom gave a magnificent taste of true african rich tales and great wise sayings, made to become something spectacular you have neither seen nor heard before.
Musician, Kojo Taylor also got a slot to deliver his artistry prowess, as he kept the atmosphere on a circle while patrons were waiting for the main act, Fuse ODG to mount stage.
Revelers at the show grooved their sweat off when the Ghanaian celebrated performing act took to stage at exactly 22:00 hours as he gave a splendid performance on stage backed by an electrifying and live band music which was virtually enjoyed by all patrons who trooped in to witness the Afro fusion and African artiste. Fuse ODG and his band started off from the outset with songs popular here and the crowd was ruptured in ecstasy.
The 31 year old Ghanaian singer's dancers burst onto the stage with such unmatched energy, demonstrating that versatility which has made dancing an essential and remarkable act on the minds of Africans.
Fuse' performance on the night compelled the European folks, including the British nationals to adjust to flamy environment created by the indigenous fans of the music star, as he performed most songs on his new album.
Fuse ODG was on a mission to pacify the storm he caused and one way of endearing himself to his indigenous fans. He educated the patrons on religion, urging them to entrust in themselves to achieve a successful life, as he noted that there is God in every human.
Although the musical accomplishments of Afrobeat pioneer, the Grammy and MOBO award-winning star's special assignment is much bigger than his music. Now a global star, he is using his platform to rebuild the image of Africa, both within the continent and throughout the world.
Amidst his performance at the launch of the "New Nation Album", he explained that, the album's concept was to provide a platform to showcase Africa in a positive light, to develop a love for Africa, and also develop self-love for Africans and how to take Africa beyond aid and "mobilize the sleeping giant of the Diaspora".
Fuse elaborates on the need for more events like TINA, explaining that, their mission is to develop a love for the continent, so people don't just give them handouts, but rather they come and enjoy themselves, they come and see an investment opportunity.
Fuse ODG's New Africa Nation album artworkAfrobeats musician Fuse ODG released his sophomore projected, titled "New Africa Nation" on Friday, March 8, with Dr Kwame Nkrumah's Independence Day declaration inspired artwork.
Full of afrobeats sounds, the album features top local and international artistes including rapper and BET award-winner Sarkodie, singer Mugeez, Grammy award-winner Ed Sheeran, reggae superstar Damian "JR GONG" Marley and Jamaican-UK star Sheflon Don.
Click here to stream the full album.
https://itunes.apple.com/gh/album/new-africa-nation/1440774073
By: Gerrard-Israel GB