With days leading up to Sarkodie's upcoming Jamz World Tour in New York, exciting details about the MCs for the event have emerged.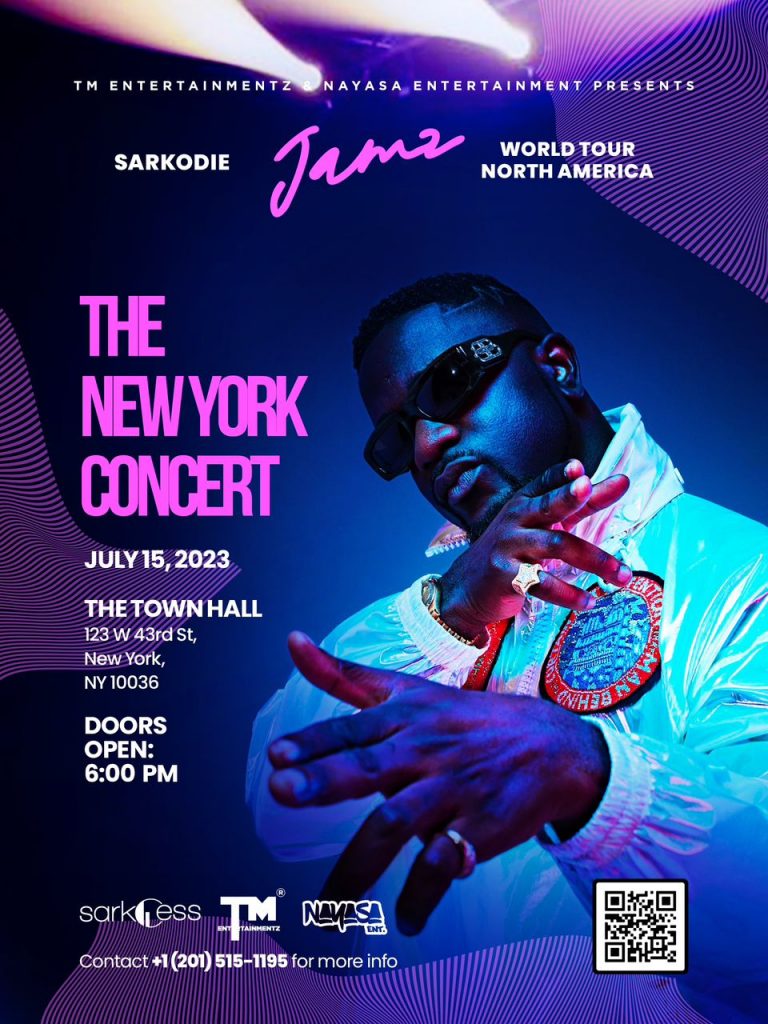 The main organizer of the concert, Terry Masson has revealed it would be an unforgettable experience with Kwasi Beast and Ini Cash, as host MCs for the concert, who will be steering affairs on the nite.
Kwasi Beast will be taking his jubilant personality to the Town Hall venue in New York for what he's describing as the "biggest" African music concert to happen.
Speaking on the upcoming concert, the 'Season 7 of MTV's Are You The One' reality show actor said in a statement: "I can't wait to introduce and watch Sarkodie take the stage with his vivacious energy and standing together with today's hottest and beloved musicians".
Ini Cash has also been in demand, no wonder TM Entertainmentz enlisted the comedian and internet sensation from Nigeria to co-host the show slated for 15th July 2023.
"This will be the biggest music concert show in history. It's truly an honor to host and I can't thank Sarkodie and the entire TM Entertainmentz enough for this opportunity. We're going to celebrate music, culture, and entertainment, honor the biggest stars from Africa, and make this an unforgettable night full of laughs and surprises", Ini Cash said.
The North American tour commences from July 15th to September 3rd across 11 major cities in the United States and Canada.
Tickets are selling on Ticketmaster here – https://www.ticketmaster.com/event/03005EA84B73668B for $50, $70, and $100.
Sarkodie's New York Edition of Jamz World Tour is proudly brought to by Nayasa Entertainment, TM Entertainmentz & Sarkcess Music
About Kwasi Beast –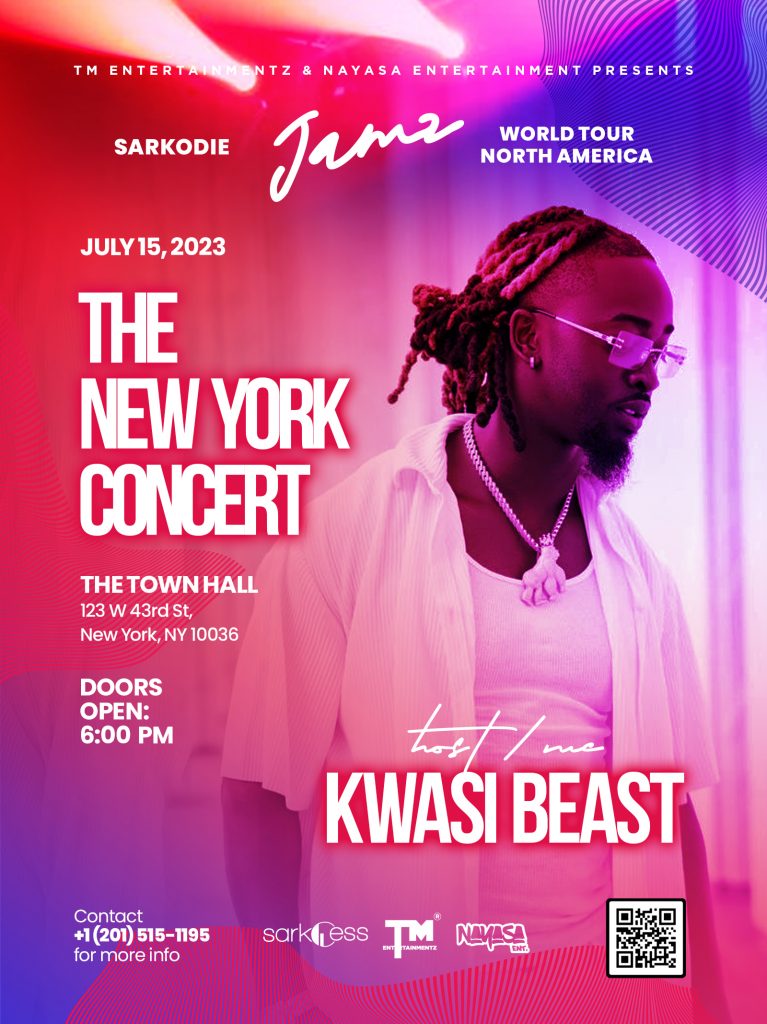 A Multifaceted Talent: Kwasi Beast is a true entrepreneur, a creative visualist, and a fluent figure in the entertainment industry. With an outgoing and fearless personality, he effortlessly commands attention and engages the crowd. But Kwasi Beast's talents extend beyond hosting; he is also an accomplished actor and an influential voice in his community.
Model, actor, and philanthropist, Kwasi 'Beast' Opoku has starred in Season 7 of MTV's Are You The One?
Kwasi Beast holds a Bachelor of Science degree in Biology and a Bachelor of Science degree in Public Health. During his university years, he actively participated in various leadership roles and activities. He was a member of the Biology Club, served in the Student Association, acted as a representative in the Student Government Association Judicial Branch, and held positions in the Native African Student Organization. Additionally, he contributed as a camp counselor, coached basketball and football, and engaged in community service through the Woodbridge Community Center.
Hosting began for Beast when he hosted his first show at a university in New York City. That is where he gained his platform for hosting and went on to host in numerous institutions in the tri-state area and in the DMV area as well. These experiences made him a household name in his community and in neighboring communities. He became the face and voice for the community and youth and grew popular as one of the renowned entertainment voices on the East Coast. Kwasi Beast has an undeniable talent for connecting to people by entertaining and keeping them engaged in any aspect of entertainment.
About Ini Cash –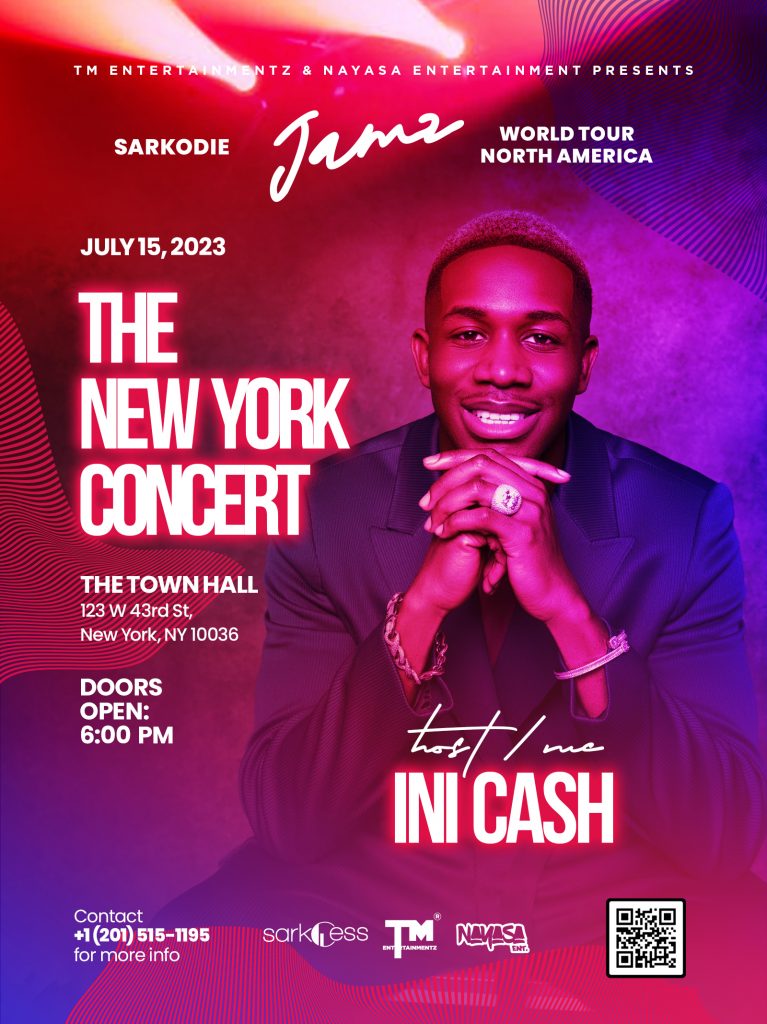 Inioluwa Olu-owotade, commonly known as Ini Cash (born 12/14/1998), is a fast-rising comedian and internet sensation from Nigeria and New Jersey. Ini's ability to capture his audiences with his popular selfie-cam videos of true-to-life situations has led to his meteoric rise reaching over 100M accounts across TikTok and Instagram with his videos in just 2023, being featured by BuzzFeed and The Shade Room and working with artists such as Rema and Davido and brands such as Puma. Ini's long-term goal is to bring together his passions for comedy, acting, fashion, and event hosting to bring a smile to all.
Don't miss out on this extraordinary event that combines music, celebration, and the power of unity. Get ready to immerse yourself in the electrifying atmosphere and celebrate the vibrant Ghanaian culture with Sarkodie and his talented team of artists.
ABOUT TM ENTERTAINMENTZ
TM Entertainmentz is an event organization that centers on providing the best entertainment for the general public. Highly recognized in several publications that include www.nytimes.com, vwww.ghanaweb.com, www.ghanamusic.com, www.afrikanpost.com, and other notable websites.
History was made when TM Entertainment headed by Terry Masson and Sarkodie pulled off the successfully sold-out show at The Apollo Theatre in New York on 8th August 2015.
ABOUT NAYASA ENTERTAINMENT
Nayasa Entertainment has an outstanding reputation for creativity, efficiency ability to meet deadlines, and uniqueness in it's broad-based approach to creative development. With a series of events hosted in Ghana, Nayasa Entertainment was behind the sold-out event dubbed "It's About Time with R2Bees x Sarkodie 2022".