LiveFM's 'September Rush' slated for September 21.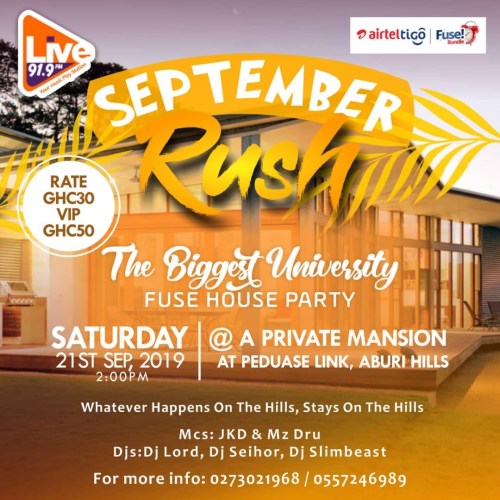 Live 91.9 FM, 'Your Music play station' will on September 21, 2019 host its maiden house party event dubbed ' September Rush' at the Aburi Hills.
According to the organizers, 'September Rush' will be a fun packed day filled with different fun activities like; human fussball,colour fight and lots of drinks and grills.
The event which will start at 2:pm, will have Live FM's DJ's jamming and an Artiste Concert later in the evening.'September Rush' is an event to welcome students back to school in September.
The premier event will host students from University of Ghana Legon, UPSA,  Accra Technical University , GTU and many other Universities.Buses will be available on various  campuses to pick students straight to the venue. Contact 0273021968/ 0557246989 for further details.
(Source: beeniewords.com)