Miknel Consult, an Accra-based event organizing company has partnered the Asogli State for this year's Asogli Yam Festival in Ho Municipality. The festival which happens yearly is celebrated over a month's period in September.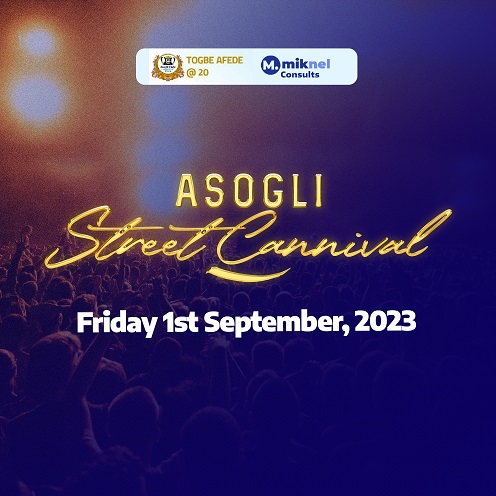 This year's celebration is however extended into the month of October to reflect the real Month in which His Royal Highness was enstooled. This year's celebrations which also marks the 20th Anniversary of the Enstoolment of Togbe Afede XIV is poised to have a good face-lift to highlight the paramount Chief's 2-decade reign, and still counting.
This 20th Anniversary Celebration is meant to get the youth on board in projecting the vision and mission of The Paramount Chief of Asogli State, Togbe Afede (XIV).
In lieu of activities slated for this year's programmes, Miknel Consult will be taking charge of some key events happening under the Festival. The event organizing company will undertake the following;
All Asogli Street Carnivals
Trade Fair at Ho Technical University Campus
Miss Asogli Beauty Pageant 2023
Night With The Stars Musical Concert
Climax Concert
The Street Carnival will take place during the festival with a concert night with the stars on Friday, September 1st and another on the 4th October, 2023. There will be a Pre-Pageantry Fair at the Forecourt of the Ho Technical University Campus from the 21st of September to the 23rd September, 2023.
A beauty pageant dubbed Miss Asogli 2023 slated for the evening of September 23rd to crown the day's activities, a re-introduction of the pageant which was on hiatus for a while now. Climaxing the Festival will be Night With The Stars Concert pitched on October 6, 2023.
Theme for this year's celebration is "20 years of selfless and inspiring leadership, engaging the youth for more developmental growth."
The objective is to engage and assist the youth to achieve their developmental goals and projects within the Asogli State.