A year on from Smallgod's 2021 debut album, Building Bridges, the Ghanaian music entrepreneur-turned-artist returns with a follow-up that builds on his express intention to map out the latticework of collaborations and kinship supporting the ever-evolving genre that is Afropop.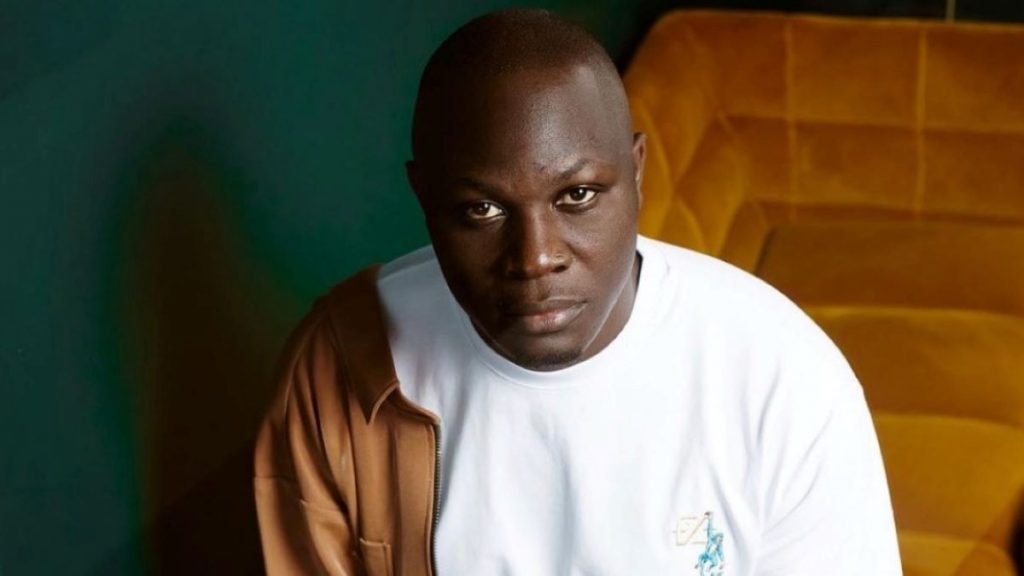 While Building Bridges cast a wide net over the many artists Smallgod has worked with during his 15-year career, 2022's Connecting the Dots has a narrowed focus on emergent artists whose success disassembles old hierarchies thanks, in part, to democratic avenues for recording, releasing and promoting music.
"They also need the platform. They also need the push. They also need the applause," Smallgod tells Apple Music of the coterie of artists he selected for his sophomore album. "I'm like a ship they can use to get to where they want. We all have one dream, which is to bring Africa to the world."
The change in tack also applies to the up-and-coming producers employed for the album, all of whom combine autonomy with collaboration: "Ninety per cent of the time I play a beat for an artist I thought they'd like, they do like it," Smallgod explains with the surety that only passion and experience can bring. Ultimately, his goal is clear and simple: get the music right and get it to the world.
Here, Smallgod (Nana Appiasei) breaks down Connecting the Dots, track by track.
"Falling" [Smallgod, KiDi & DARKOO]
"We probably recorded 'Falling' before KiDi recorded [his 2021 hit] 'Touch it'. We were not trying to create another 'Touch it'. It was just the zone he was in. KiDi is an incredible writer and a very good producer. DARKOO is very close to me; the lyricism she brings to her melodies is top-notch. I believe dancehall and Afrobeats are distant cousins. Only maybe language and sometimes recent culture [differ], but they are very close for me. The clave on the beat was a conscious decision to combine both the dancehall and Afropop elements. Africa is my home, and my mission is to, ultimately, connect all Africans both in Africa or in the diaspora."
"My Way" [Smallgod, Headie One & Eugy]
"Ten to 15 years ago, Black British artists may not have been keen to come back home and make music. It wasn't cool to be African at the time, or it wasn't cool to be seen as African. Now, they all pack their bags, come home and embrace what they left behind or what they didn't know they had. Headie One didn't go in as crazy as how you'd go on a drill beat. We recorded the song on the same day as Eugy's birthday, when he was on his way to the club. Eugy goes in—no lie, 10 minutes, he's done. Eugy is quite popular in Ghana; Headie, coming back home, we needed to receive him properly, to initiate him properly into the local [sauce]. People know him, but he needs to be known properly, known in Africa, especially Ghana, where he is from."
"Tried & Tried" [Smallgod, NSG & DarkoVibes]
"I always try to implement our live sound on everything I do. There's always electric guitar that you hear in our sound from highlife that, no matter who you are, if you were born African, when you hear it, you're reminded of home. Today, we call [that] Afro-fusion. NSG is made up of British born Nigerians and Ghanaians. It's so important for them to come back home because I won't say they're not accepted where they are, but it's easier when you're home because you're actually of the people. By the time I got the whole thing done, Building Bridges was already set to come out. So, I said, 'This song is too powerful to throw away. I know when it'll be needed.' When I was almost done with Connecting The Dots, Killbeatz said he would enhance the beat and play some live instruments just to get the sound right. Then we got it right."
"Tonight" (feat. Wes7ar 22 & Kofi Mole) [Smallgod & Efya]
"Efya first dropped the hook, and the rap verses followed. She set the tone for the lyrics. Here she is singing in Twi and the song is about being intimate with your lover. The hook translates to 'Dig deeper in me tonight.' Adult music. [Wes7ar] 22 is a Nigerian artist and a special kid. Kofi Mole is one of the young guys who is unique in his own way and something very original about him. His deliveries in Twi are always super dope and relatable, and they're fused with lots of humour. Nigerian and Ghanaians are more or less siblings. Highlife started from the roots of Ghana and was transported through E.T. Mensah and the likes to Nigeria. Fela came to study it and then transport it to Nigeria and create something special now called Afrobeat. It's amazing the synergy we have as countries with two other countries between us. It's special."
"Do You" (feat. Nonso Amadi & Acebergtm) [Smallgod, Stonebwoy & Teezee]
"I love Nonso—the way he writes is what you want to hear. He puts you in that happy zone where you forget your problems, your worries. Well, this song was hard to finish. I kept on changing the artists because of how I wanted to hear it. It started with me and Breezy on the beat. Then we brought in Stonebwoy. Teezee was actually the second before Ace; then I put Nonso to finish it."
"So Amsterdam" (feat. Mugeez) [Smallgod & BOJ]
"Mugeez is a god, our own alien Rasta. He's out of this world. I sat with BOJ, and I played him four different songs, and when BOJ picked that one, I'm like, 'Yeah, let's go with it.' The co-producer Diquenza is from Suriname and lives in Holland. I spent a lot of time in Holland because I had family there. I always say, 'If you want to hear the right sound, you have to go to the country where the sound is from.' I didn't grow up there, but if I were white, I would be like one gipsies backpackers going from city to city. That's me. I've travelled to a lot of cities and countries, and I'm almost done with the world."
"2000" (feat. Uncle Vinny & Wes7ar 22) [Smallgod, Major League Djz & GuiltyBeatz]
"For some time, amapiano was going crazy in South Africa, but when you went west, it wasn't the same. They play a lot of house music in Holland, and so I kind of connected directly to amapiano because of Holland for this reason. South Africa always has a sound that's going crazy. Vinny is like an MC—a hype man. He's very powerful; he's like the voice of the kids. This was the first time he's on a song. I had to force him to do it because I knew he could do it and it would sound right. And after hours of convincing, after a few smokes, he was ready to go."
"Paradise" (feat. Alpha P)
"The hook is made up of words that sound like nonwords, but they're words if you ask me. In Africa, in Ghana, you can record an entire conversation, play it back and you'll see that 'uh-huh' means something, 'yay' means something and 'ah' means something. My mom says 'hmm' and it means something. My dad goes 'heh', it means there is a problem. These are words, but to someone else, they sound like they're not words. But because we're familiar with it, we understand it. Also, if sonically the song sounds right, leave it, because sometimes that's where it connects to people. I feel like Alpha is something else; he needs to be seen."
"Biou Biou" [Smallgod & Oxlade]
"Oxlade did what he had to. And I don't think anybody is supposed to touch it again. COVID-related lockdown was a gift and a curse. The gift means helping us work without actually being in the same place, thanks to Zoom calls. I recorded my first song with Oxlade along with another artist from Holland, but a year later, he said, 'I think we should do a different song because my sound has changed.' I wasn't even in the session—they actually did it with me just being on the phone, just talking and that's it."
"Holy F4k" (feat. Ivorian Doll & Kwaku DMC) [Smallgod, Black Sherif & VIC MENSA]
"The street loves the drill sound. Kwaku DMC did the first verse on that song. I played it to Sherif, and we pressed go and he just did the hook. Black Sherif has the local highlife sound from the olden days. The hook was so strong, so heavy, so hardcore that DMC told me, 'I'm going back again.' I wanted to send three different songs to Vic Mensa. Vic heard it and said, 'Don't send another song. This is it.' As for Ivorian Doll, I hung out with her when she came in from London to Accra for about a few weeks. It was important for her to soak in the culture, understand it—then, when you're creating, it's easier."
"I Know" [Smallgod, BNXN fka Buju & Kuami Eugene]
"A lot of the artists sound the same—their voices, transitions or the way they write. But there's something special about BNXN. His energy, the way everything with him is just happiness. I needed a song over which you can enjoy having a conversation, enjoy hearing in a rooftop bar, in the corridors of a shopping mall, when you're on the elevator or when you're driving. So, we needed something for a different mood. BNXN recorded his verse first, so he controlled how the song goes. I brought in Kuami Eugene; he's normally the club-banger kind of guy. A lot of artists would be like, 'No, I'm not comfortable.' But he said, 'Yo, let me try.' Kuami is a complete artist."
"Africa" [Smallgod, MzVee & Terri]
"MzVee is one of the top female artists in Ghana. She's hardworking. Terri is really talented. He's one of the artists who's got next. He dropped a perfect EP, In Transit, a few weeks before Connecting the Dots was released. Success is like a door, and if you keep knocking and knocking, you'll go through."
"Holy F4k (Remix)" [Smallgod, Yssi SB, Adje & Black Sherif]
"Nobody could touch the original 'Holy F4k', but I needed to give the Dutch people a remix. Yssi SB, who is from Suriname, is dope, crazy. Adje is a legend in Holland and a friend of mine. So, I brought one of the new school and one of the old school and put them together."
Stream "Connecting The Dots" HERE.