With his latest collaborative project, "Free Me Self" still hot on the virtual shelves, we reached out to the Tema-based rapper – whose appetite for storytelling is yet to take a hit – about the new project, his remarkable run outside the mainstream as an indie rap artist, and what's next for him.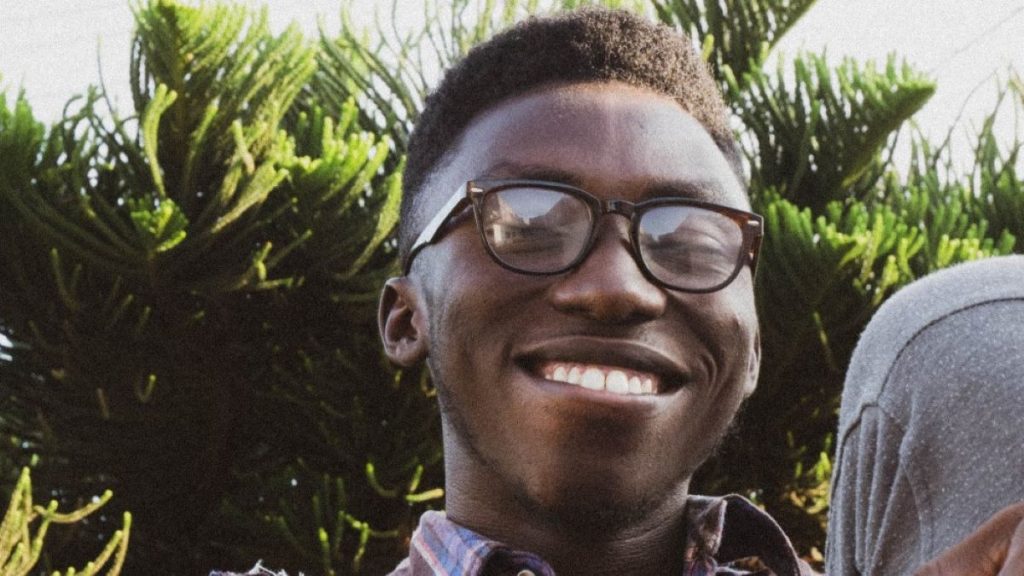 Access all the work of NINE99 including his new "Free Me Self" EP with Summit Boahen here: https://linktr.ee/NINE99
Although not yet a sensation on the internet, NINE99 (pronounced "nine-nineyy-nine") is pretty much one in his city, Tema – where his street credibility is much-coveted. And with numerous projects, collaborations, freestyles, and gigs to reinforce this notion, only a few unsung artists can match up to the badass reputation of NINE99! Nonetheless, he still eludes many Hip-Hop fans due to his calm demeanor and modest wardrobe choices; a combo that makes his existence as a rapper more of an enigma to some, so we got him on phone to help us crack the code.
A member of Hip-Hop collectives dZZZdope and HoldYourBalls, NINE99 has had well over 10,000 hours to hone his skills – as a matter of fact, it has been a decade (and counting) since he first grabbed a mic to unleash the fire that was inside of him. But it wasn't until 2020 that his burgeoning career took a big turn, most notably after the release of his first two (and only) solo projects to date: "Beachy: The Prelude" and "dem strays." Though the aforementioned solo projects ushered him into a new era, it was his three other collaborative works that primed him with the requisite skills; "The Let's Talk Project" (2014) with the Soul Tape Family, "Classic Nights" (2015), and "The BLVCK SOLE Collection" (2018) – the latter two done with fellow rapper, Txmo.
Mostly sticking to themes of education, romance, mental health, solitude, faith, and spirituality – concepts the wordsmith terms the "inevitable phases of the earthly walk," NINE99's recent projects have doubled down on such topics while shying away from trend-chasing ones. This has led to the creation of some whimsical songs – such as 'Will I Make It' (feat. A-Clipse, Dubblohz & Dirty Cur$ive), 'Knowledge,' 'Ghana Man Time,' and 'Does I Care' – all of which sound great and are a part of his two projects for this year; the Dirty Cur$ive-assisted "AirSol, Vol. 1" and the still-fresh "Free Me Self" EP with Summit Boahen.
Enjoy our conversation with NINE99 below.
How's life in Tema? How about a brief backstory on who you are and how far you've come with rap?
A little bit of everything. Portside (as we call it) has its highs and lows, and I'm dealing with it in the best way possible. Who am I? I'd say I'm a young man still finding myself as an artist while seeking greatness as well, and it has been an incredible journey; right from when I first rapped over Kanye's 'Power' on stage for Variety Night to having one of the biggest songs in high school ('Bad A$$') with the crew Straw City. Then there's that one moment I made an appearance on the Tema Edition of the TeamBackPack Cypher that would catch the eye of some noteworthy artists, industry players, and rap enthusiasts. Lots of EPs to show too, so I'd say I've come quite far with rap.
When does the story of NINE99 begin, and how did you come about with the alias?
2011. But not as NINE99. I started as 9TRo (aka, 9: The Rugged Orator), a name I went with until 2014 before switching to Ayo! 9:TRo from 2015 to 2018. I noticed people were having a hard time getting it right, especially when naming song files, so I again changed it to dotnine (stylized as ".nine") in time for my "The BLVCK SOLE Collection" LP with Txmo back in 2018. NINE99 came into existence in 2020 and was first used for my guest appearance on Fafanyo the Pryme's ''Making Dawn'' and my solo project, "Beachy: The Prelude." About why the number "9" keeps recurring, it's because I feel people don't seem to acknowledge the numbers 999 and 1000 are on the same level and power. However, the deficit of one (-1) signifies there's always room for improvement and growth.
You've done eight EPs in total. Tell us about your latest with Summit Boahen – "Free Me Self," and where it fits into your development as a rapper.
Technically it's five EPs: two solos; "Beachy: The Prelude" and "dem strays," and three joint ones; "Classic Nights" with Txmo, "AiRSOL, Vol.1" with Dirty Cur$ive, and "Free Me Self" with Summit Boahen. "The BLVCK SOLE Collection" counts more as an LP, and both "Let's Talk Project" with Soul Tape Family and "The Royalty Mixtape" with GospelNation are compilations. "Free Me Self" with Summit Boahen should've been out in 2020, but the pandemic halted our plans. Glad we made it this year – especially as the country's current state of affairs, that of social media, and the music industry remain relevant topics. As far as development, I feel I can now take on more challenging topics and I'm more outspoken about the status quo. I've become more comical about my anger and frustrations too, and my music has become more therapeutic in the process.
'You Sef' – one of my favorites on your new project seems to tell a story of life as an indie artist. Tell us about it.
Haha. Yes, it is, and I'm glad you enjoyed that one. 'You Sef' is us (artists) addressing the challenges of the musical journey – like the frequency of our releases, accompaniments (think videos, merchandise, shows, etc.), the engagements we get once our new material is out there, and the criticisms from some indifferent few about these efforts and moves. Trust me, being indie makes all this a pile of work because reaching out to the necessary channels and people requires lots of patience and a good amount of resources – which is quite hard to come by lately. There's beauty in the struggle, but it does get tiresome. Then again, it's all part of the experience that comes with being an artiste, so my peers and I are holding on for better days.
Lately, Afrobeat and Amapiano have taken over. Do you sometimes feel tempted to switch from rap?
Haha. I get this question a lot because I happen to sing, and I have done live backings for some artists invested in these genres. I think it's about the times. But for now, I don't think I would – it doesn't mean I am shutting off any artist who may want us to work on anything similar to these genres anytime soon.
When you look into the future, what lies ahead for NINE99?
I think I'd be around for a while, especially under the alias NINE99. I'm very optimistic about that and I want to give my listeners an environment where they can get some peace of mind – you know, escape their problems for a while. Also, whenever my name pops up I want the nearby crowd to get excited! But in the meantime, I'm working on my third solo project. It should drop somewhere next year. Anticipate!
Please note this interview was edited and condensed for clarity.