The chiefs and people of Bonsu and Nsutam fight over ownership of the Bonsu roundabout land space on the main Accra-Kumasi Highway.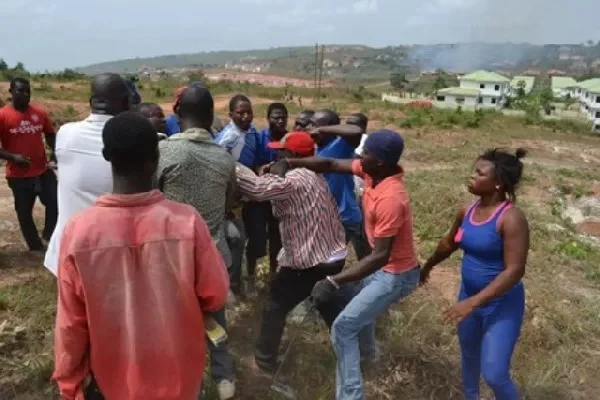 On Tuesday, 9th May 2023, a signpost embossed with Bonsu mounted by the chief of Bonsu at the Goil fuel station close to the Linda Dor Rest stop at the roundabout on the main Accra Kumasi Highway, was brought down by the youth of Nsutam in a physical rivalry.
The chief of Bonsu who in an attempt to prevent the youth from pulling down his signpost was pushed down and dragged into his car in a viral video expropriated by Citi News while the youth of Nsawam could be seen pulling down the signpost mounted at the roundabout.
The confrontation was stopped by the Police and prevented the situation from escalating into a fight after one man from the chief's camp pulled out a gun.
There has been a long-established tension between the Fanteakwa South District Assembly where Nsutam is located and the Abuakwa South Municipal Assembly where Bonsu is located.
The said area is believed to traditionally belong to the people of Asiakwa and was handed to Nsutam residents to settle, but the increasing market and commercial activities in the area resulted in the chief of Bonsu Osabarima Abiam II forcibly taking ownership of the area. This caused the youth of Nsawam who have vowed to oppose his ownership to tear down the signposts of the King in the area.
WRITTEN BY: CARIS LONDON