Stonebwoy, the global dancehall, reggae, and afrobeats icon, kicked off his highly anticipated 5th Dimension North America and Canada Tour with an electrifying performance at the Bayfront Reggae & World Music Festival on July 15.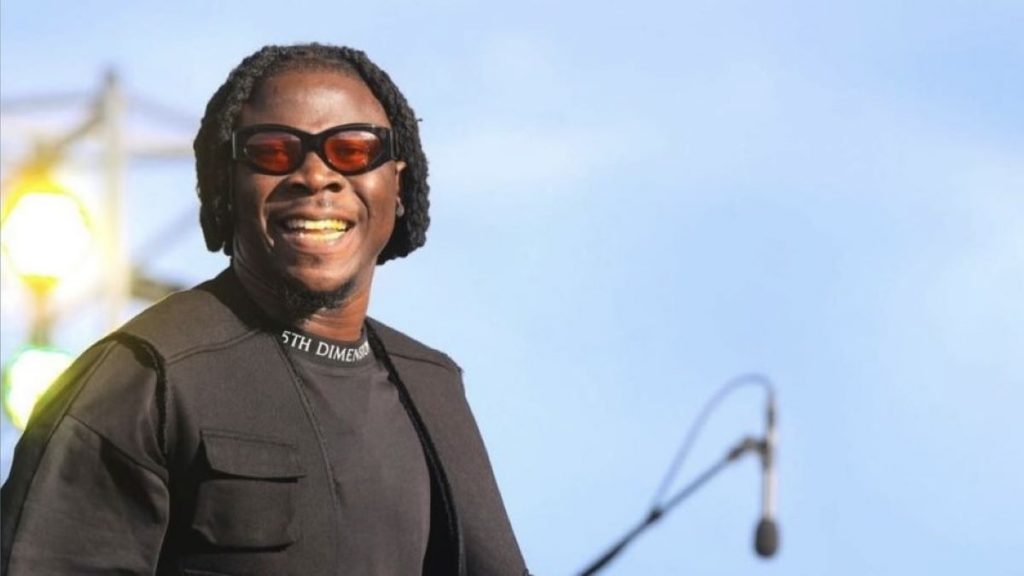 The renowned Ghanaian singer-songwriter and performer set the stage ablaze in Duluth, Minnesota, captivating fans with his signature blend of infectious energy, soulful vocals, and a heartfelt connection that defines his remarkable artistry. Described as an unforgettable spectacle that marked a pivotal moment on his much-anticipated tour, the Bayfront Reggae & World Music Festival show marked the official beginning of his extensive world tour, aptly named after the trending album "5Th Dimesion."
The concert opened with an explosion of lights and music, instantly immersing the audience in an atmosphere of anticipation and excitement. From the first note to the last, Stonebwoy's electrifying set was a tour de force of talent and creativity. Combining elements of afropop, afrobeats, amapiano reggae, and dancehall, his performance showcased the breadth and depth of his musical repertoire.
The international superstar effortlessly navigated through a catalog of chart-topping hits, including songs from his new album such as "Life & Money" featuring UK rap heavyweight Stormzy; "Manodzi" featuring multi-Grammy award-winning singer Angelique Kidjo; "Therapy", "Far Away", "Apotheke", "My Sound", "Into The Future" and "Non-Stop". Other popular singles such as "Strength & Hope," "Nominate,"", "Activate", "Most Original", Shuga," and "Run Go" were each met with an overwhelming response from the sea of concertgoers who sang along in unison.
The 5Th Dimension tour continues its journey across North America and Canada, before heading to Europe later this year for a three-date UK tour, and based on the fervor witnessed at the Bayfront Reggae & World Music Festival, the remaining shows promise to be nothing short of extraordinary. Stonebwoy's next stop is in Georgetown, Guyana, at the African Cultural Development Association Annual Concert on August 1. From there, he is expected to wind through a total of 10 major U.S. and Canada cities.
Stonebwoy's "5Th Dimension" North America tour dates:
1st August, Georgetown, (GUYANA)
3 August, New York, NY (USA)
6th August, Boston, MA (USA)
9th August, Hartford, CT (USA)
11th August, New York, NY (USA)
12th August, Philadelphia, PA (USA)
13th August, Washington, DC (USA)
16th August, Atlanta, GA (USA)
20th August, Detroit, MI (USA)
25th August, Toronto, ON (CANADA)
26th August, Edmonton, AB (CANADA)
27th August, Vancouver, BC (CANADA)
Stonebwoy's "5Th Dimension" Europe & UK tour dates:
26th October, Manchester
27th October, Birmingham
27th October, London
Tickets out now via: https://bio.to/Stonebwoy
5th Dimension, Stonebwoy's follow-up to his 2020 LP, Anloga Junction, arrived April 28 via Universal Music Group and DefJam Recordings. The 17-song record includes "Manodzi" (which features multi-GRAMMY award-winner Angelique Lidjo), "Life & Money" (which featuring Stormzy), and "Into The Future". The album thematically incorporates Afrobeats, reggae, dancehall, amapiano, folk, and other genres while leaning primarily toward pop-related themes. It showcases the artist's evolution and growth, pushing boundaries and delving into uncharted musical territories.
Born Livingstone Satekla, Stonebwoy (known in recent times as 1GAD) has been a dominant presence in Ghana's pop scene since 2012, fusing Afropop, dancehall, and reggae. Having been the recipient of multiple acclaimed awards such as Best International Act: Africa at the BET Awards, Artist of the Year at the Ghana Music Awards, and two Billboard plaques, he has been described as the king of ragga and dancehallin' for Africa in his career. He has duetted with international artists such as Keri Wilson, Sean Paul, Trey Songz, Burna Boy, Alpha Blondie, and many more, and has rocked stages from the UK to the USA, Australia, Italy, Puerto Rico, and Amsterdam, making his electrifying touring an integral part of his career.
Last week, he received his Golden Club plaque from Africa's premier music streaming and download platform, Boomplay, for amassing over 100 million streams on the platform. The milestone was buoyed by the performance of his new album, 5th Dimension, on Boomplay. The album, released on April 28, 2023, has garnered over 23.5 million total streams, with its singles trending for months in-app and its lead single, "Into the Future", peaking at No. 1 on the Boomplay Ghana Charts. He was the first major artist to join Boomplay when the company launched in Ghana in 2018 and, for the first three years, was the most streamed artist on the platform. In December last year, Stonebwoy was honored by rival DSP Audiomack after he became the first Ghanaian artist to surpass over 100 million streams on the platform.
Watch "Into The Future" visuals here: https://youtu.be/gMINOvYsblk
Stream the 5th Dimension'' album here: https://stonebwoy.lnk.to/5Dimension
CONNECT WITH STONEBWOY:
Facebook: @stonebwoyburniton
Twitter: @stonebwoy
Instagram: @stonebwoy
TikTok: @stonebwoy
YouTube: @Stonebwoy