On Tuesday, November 16, over a hundred guests gathered at Her Excellency Daniela d'Orlandi's, the Italian Ambassador to Ghana, residence to celebrate the 7th edition of Italian Cuisine Week.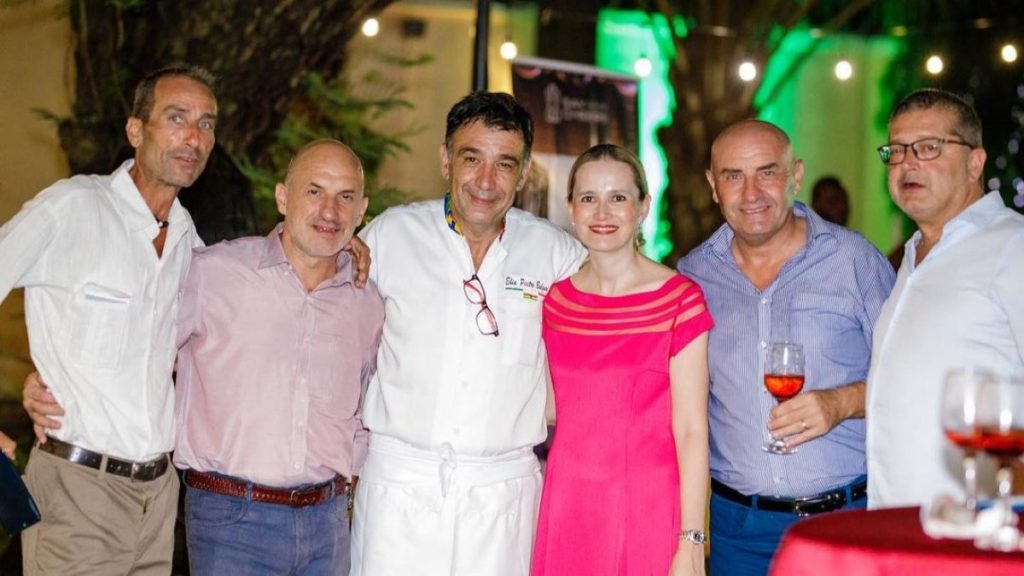 The event, organized by the Italian Trade Agency and the Embassy of Italy, aimed to promote and celebrate Italy's rich culinary and wine cultures, as well as provide an opportunity for Ghanaians to savor the rich and quality taste of Italian wines. For the first time, the event included five Italian wineries: 8ORO, Grand Vini D'Italia, Moncaro, San Marzano, and Unexpected Italian.
Speaking to guests about "conviviality, sustainability, and innovation: the ingredients of Italian cuisine to keep us healthy and protect the planet," according to Her Excellency Daniela d'Orlandi, the event is a flagship initiative of the Italian ministry of foreign affairs and international cooperation that involves all Italian embassies, consulates, cultural institutes, and trade offices around the world in order to promote the best of Italian cuisine and wines.
Alessandro Gerbino, the director of the Italian Trade Agency (ITA), also added that the night provided an ideal opportunity for both countries to strengthen trade relations, as Italy, a leader in fashion, design, food, and many other creative sectors, has much to offer Ghana.
"Italy is already in Ghana in many forms, and still we see a growing interest for made-in-Italy solutions from local businesses, particularly when it comes to manufacturing, as it brings out how much Italian options can suit Ghana's needs for the creation of added value here. Besides, the curiosity for Italian cuisine and wine is growing as no other country in the world can put on the table such a wide palette of flavours and aromas. " he said.
The 7th edition of Italian Cuisine Week welcomed dignitaries such as Kodjo Adovor (certified Italian wine professional and Vinitaly International Academy Italian wine ambassador), Hon. Francis Asenso-Boakye (MP, Minister of Works and Housing), Bola Ray (media mogul and entrepreneur), Alessandro Gerbino (Commissioner of the Italian Trade Agency).
Others included major representatives of Ghana's business and financial sectors, heads of government agencies, captains of industry, corporate heads and business operatives, the diplomatic community, business executives, wine lovers, showbiz personalities, and Italian business representatives, among others.