The Livingstone Foundation has organized a one-day free health screening event for Ghanaians ahead of the 2021 Bhim Concert.
During the exercise held at the Mandela Park in Ashaiman, over 3,000 people, including children with general health conditions given, were screened, given medication, and those whose conditions were critical, referred to go to some recommended community and or national hospitals across the country.
The free medical examination is one among the numerous events, including a free training session "Bhim Skills" slated for for Military Police Mess, Elwak Sports Stadium, set aside to earmark the return of the much-anticipated Stonebwoy's "Bhim Concert". The event is also part of the organization's Corporate Social Responsibility efforts and is aligned with this year's theme "Bhim of Hope".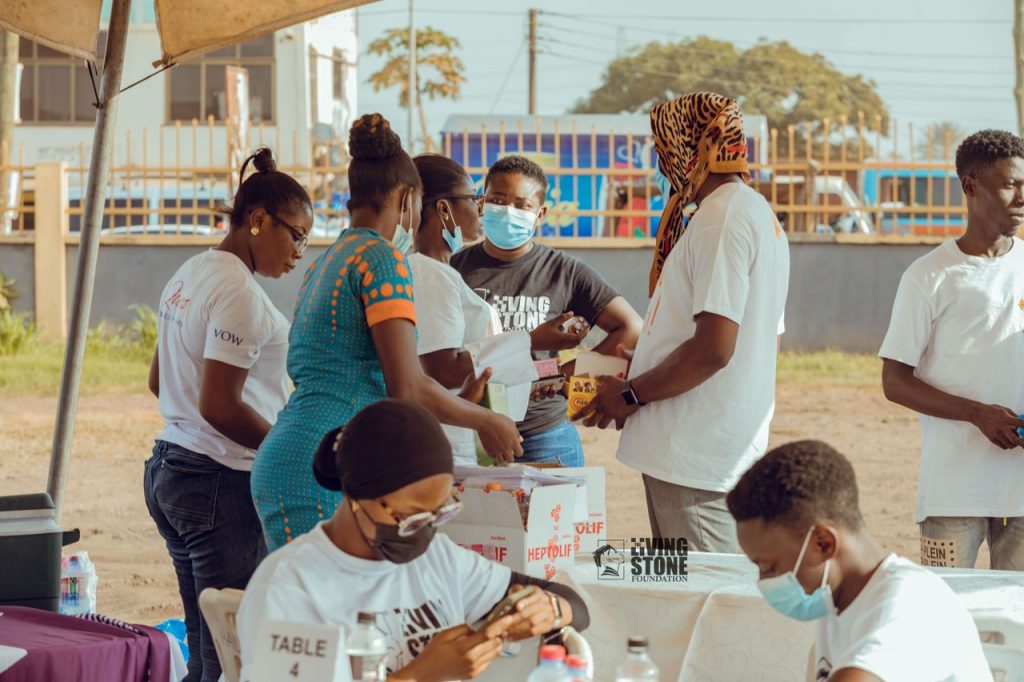 The organization together with its partners, Bhim Shop, National Lottery Authority (NLA), Burniton Music Group (BMG), First Atlantic Bank and Mutti, also carried out a free Hepatitis B screening and provided people with acquired immunity against COVID-19 through a special vaccination exercise.
According to management of the foundation, "many benefited from this year's exercise, patients who got tested positive were given prescriptions. Others were also referred to other specialized hospital for advance treatment. Beneficiaries subsequently extended their appreciation to the team for their kind-heartedness."
Dr. Louisa Ansong-Satekla, who led the team of medical practitioners in charge of the exercise, called for support for the sustenance of a regular health education programme in the community, the regular in-take of medicines given them by Medical Practitioners as directed, and exercising the body, and to immediately see a doctor when they were not feeling well.
She urged the people to take good care of their eating habits, and cultivate hygienic practices as means of protecting themselves from contracting diseases.
The Livingstone Foundation's corporate social responsibility efforts continues on Saturday as the organization announced it will host the second edition of the "BHIM SKILLS" free training workshop on December 18th, 2021 at the Military Police Mess, Elwak Sports Stadium in the Greater Accra Region.