REVIEW: Obrafour Thrill Patrons At "Pae Mu Ka" Concert.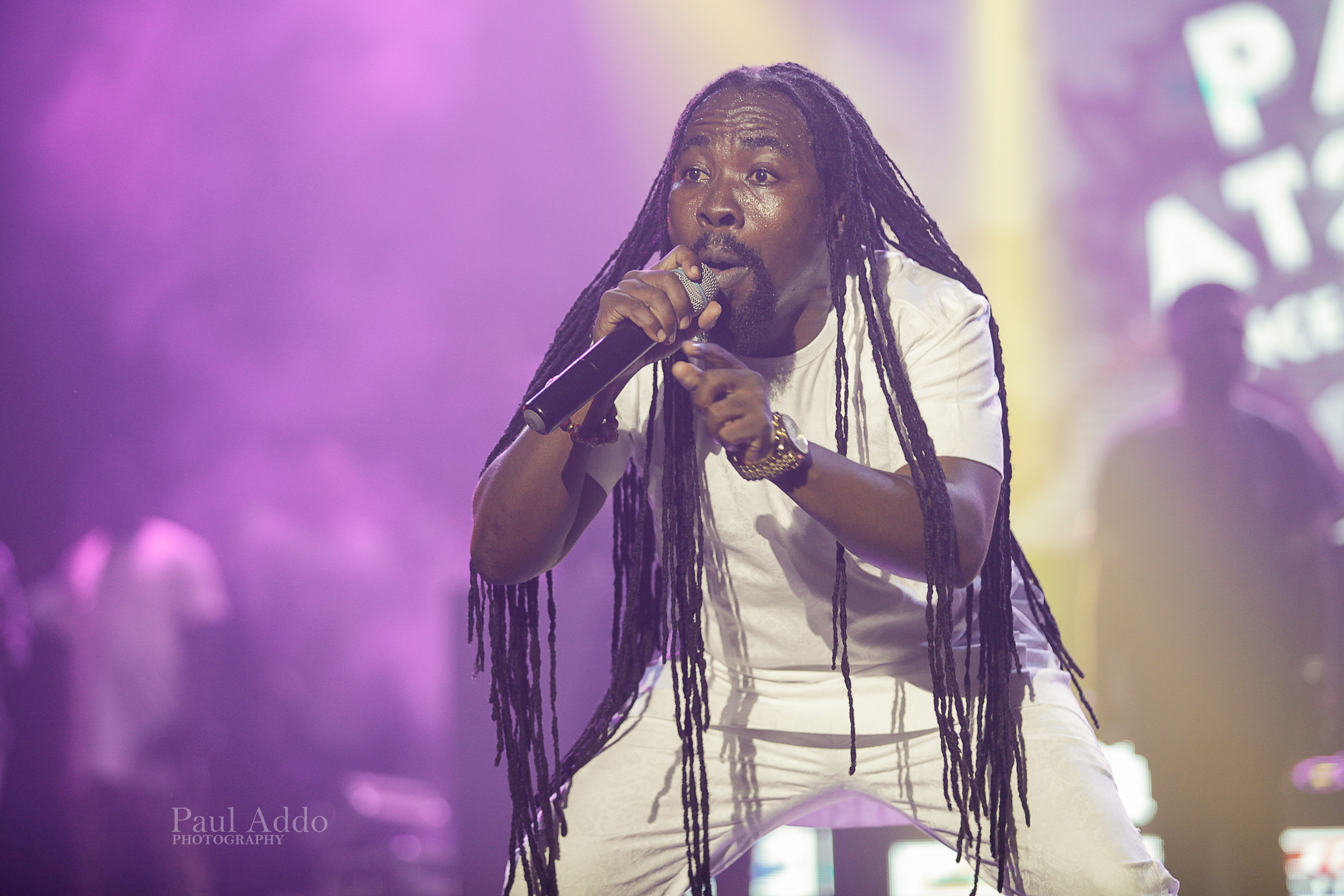 Tonight he plays for the first time with a new band that has their synthesisers, clarinet and double bass creating a warm bath of spectral sound behind him. Opening song lays the template for the hour: soft, pentatonic arpeggios rolling behind lyrics that immerse us in a profound appreciation of nature and life. Wise but playful on stage, his between-song chat is deeply informed by the Christian Religion he's been practicing, he tells us, for 43 years. There's also a sweet naivety to his music that echoes his past as a child.
Obrafour is on a mission to remind Africans, precisely Ghanaians everywhere about their roots in the continent, and hiplife is his tool. At a sold-out Accra Internatonal Conference Centre (A.I.C.C.) concert, the triumphant tone is set early: a curtain drops and a colossal gorilla is revealed. Strapped into a harness, he walks on majestically, guided by the King's body guard. Microphone in hand and the crowd screaming, raising their hands towards the stage, he moans the uplifting lyrics to the title track from his 1999 album : Intro
Other tracks from the album are as enchanting as his introduction. Yaa Nom is captivating, the jittery drums and choppy vocal delivery creating mosh-pit circles like craters across the conference centre. When Obrafour screams "Yaa Nom" during the hook, the craters collapse in on themselves, and over 1,000 people vigorously jerk their shoulders to the scattergun percussion, resembling a mass synchronized swimming routine. Obrafour has elegance, grace and charisma, a magnetic aura that follows him like a shadow; he dances as if music vibrates in his bones, and gives his vocals a deep, raspy croon.
'This is from a twenty (20) year old album, Pae Mu Ka" begins Obrafour, his hands in the air like a preacher, his gorgeous smile wide. "It's from, er, 1999. The Ghanaian musician's spiritual blend of minimalism, new-age electronica, folk and lieder-style singing is having a moment, spurred on by a reissue of his album Keyboard Fantasies in 2019. Celebrating this project was a necessity. He paid tribute to the late songstress, Ebony Reigns who died through a car accident on her return from a trip.
Special guests add gloss to the evening and show how highly he is regarded. There is an appearance from Obrafour's fellow Hiplife guru Sarkodie who dished some back -to-back tunes from his catalogue, Stonebwoy was also given a slot to deliver well produced reggae/dancehall songs, including Hero. E.L. who represented as the successor of legendry Michael Jackson, was really onpoint, not ommitting well appreciated performance from Edem, Samini (once again cementing the king of liveband music title. One thing about Samini is, just give any band at all and he will nail it at ease), Joyce Blessing (she took us to church with her soul soothing gospel tunes)Joey B, Bisa Kdei, King Promise, Akwaboah, Article Wan, AK Songstress, and surprise appearance from TH4Kwages and C.Y., they both took us back to the 2000s with their hit songs.
The evening ends with performance from Kwaw Kese, he left patrons yearning for more music after he performed Dondo, the song that has been widely accepted both the cooperate world and the street, its hard, enticing drums and echoing, easy hook digestible for ears from all continents. He finds his groove amid the heated night and leads the crowd into a memorable atmosphere, closing out a historic night for a true giant of African music.
(Photo Credit: Paul Addo Photography and ROB Photography)
© 2019 www.georgebritton.comAll rights reserved. The use of the articles from this web portal is allowed only when quoting the source – georgebritton.com As information presented on this website may be distributed or copied.